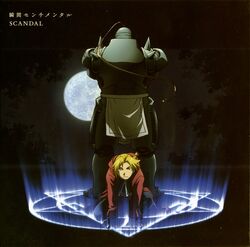 "Shunkan Sentimental" (瞬間センチメンタル Shunkan Senchimentaru) is the fourth ending theme of Fullmetal Alchemist: Brotherhood. It replaced "Tsunaida Te" in episode 39 and was replaced by RAY OF LIGHT in episode 51. It is performed by the band SCANDAL.
Video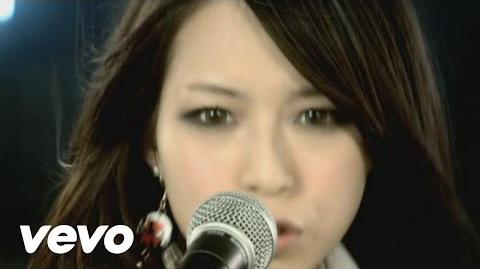 Appearances
Lyrics
Japanese Romaji
Kawashita hazo no nai yakusoku ga
Kyou mo bokura no mirai wo ubaou to suru
Hoshigatte ita mono wo te ni shite mo
Sunao ni umaku waraenai no wa naze darou
Afureru namida wa yowasa ya koukai ja nai
Itami ga unda kakera de
Donna shunkan datte unmei datte
Hitotsu dake tashika na mono ga aru to shitta
Genkai datte konnan datte
Akirametakunai yo
Kono mama hanasanai de
Kataku nigirishimeta kimi no migite no nukumori
Koko ni aru kara
English Translation
A promise that we never would have made
will seek to take our future from us again today.
Why is it that even though we got what we wanted,
we are unable to offer an honest smile?
These tears welling up are fragments born of pain,
not of weakness or regret.
Whatever moment, whatever fate I face,
I've learned that one thing is certain.
Whatever limits, whatever hardship I face
I don't want to give up.
Don't let me go!
The warmth of your right hand that I held so tight
is still here with me.
Community content is available under
CC-BY-SA
unless otherwise noted.