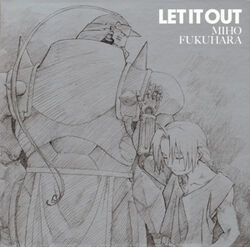 "Let It Out" is the second ending theme of Fullmetal Alchemist: Brotherhood. It was performed by Miho Fukuhara. It replaced "Uso" by SID in Episode 15 and was replaced by "Tsunaida Te" in Episode 27.
Video
Appearances
Lyrics
Japanese/Romaji
Let it all out, Let it all out
Tsuyogaranakute iin da ne
Dareka ga kaitetta kabe no rakugaki
no hana ga yureru
Jibunrashisa nante dare mo wakaranai yo
Nagai nagai michi no tochuu de n
akushitari hirottari
Kyuu ni samishiku natte
naichau hi mo aru kedo
Namida mo itami mo hoshi ni kaeyou
Ashita wo terasu akari wo tomosou
Chiisana de kazashite futari de tsukurou
Hoshikuzu wo tsuyoku hikaru eien wo
Sayonara itsuka wa kuru kamo shirenai
Kisetsu wa soredemo meguri megutteku
Chiisaku mayottemo aruiteku
Kimi to aruiteku
sore dake wa kawaranaideiyou ne
English
Let it all out, let it all out
You don't have to think your heart is made of steel
Come away now, from your own doubt
Like a flower of hope that's growing in a field,
you will heal
Although the road has changed you
And the world has often failed you
You've gotta carry on and show them you're strong
You've gotta bury what is past and gone
Some days will be worse than others
But you've gotta find another way
Through pain and fear,
or rain and tears,
We will hold on to the light
We'll chase the dawn that waits for us beyond the darkest sky
Keep following that distant star
Never walk away from who you are
Never forget that your future's waiting up ahead
As seasons change and rearrange 
And the sands of time descend
As all your hope starts vanishing you'll always have a friend
In brightest day or darkest night
Even if we have to say goodbye
You'll be alright
I will always and forever be by your side
Translation 2
Let it all out, Let it all out,
We don't have to act so brave
The graffiti flower that someone was drawing on the wall trembles
Nobody knows their own uniqueness
Along the long, long road there will be days we lose things, find things
Become suddenly lonesome, and break down crying
Let's turn the tears and pain into stars
Let's light the lights that shine on tomorrow
Holding out little hands to them, let's make stardust together
The day may come when we say goodbye
The seasons will still make their rounds
Though I may wander a little, I'll still walk, still walk with you
Let's make sure that much doesn't change
Community content is available under
CC-BY-SA
unless otherwise noted.